rotwang.co.uk
The Berkeley Family
---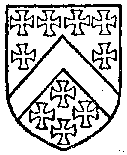 The Berkeley family are an ancient aristocratic English family. They have been intimately involved in much of English history, members of the family have lived at Berkeley Castle, Gloucestershire, from the reign of Henry II (1133-1189) up to the present day. There follows a list of some of the more prominent members of the family, and some of their relations and associates.
There is also a detailed history of the family and village of Berkeley, written in the 1870s.
---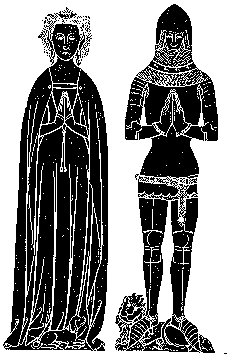 - Thomas Lord Berkeley and his wife Margaret, Wooton-Under-Edge, 1392.
---
This extract from Bernard Falk's fascinating book "The Berkeleys of Berkeley Square", published by Hutchinson & co. London 1944, should place the following in its proper perspective.
For the majority of present day mankind, delight in the magnificence of chivalry is an acquired taste. Hence the achievement of the Lords of Berkeley, floodlit though it may be by the martial splendour of the Feudal ages, makes a strictly limited appeal to the imagination. At bottom there is little to distinguish them from their fellow Barons. They never seem to approach, much less touch, greatness. As we summon their unloved ghosts from the dim past, and reclothe them with flesh and blood, seeking the while to recapture the passions that were the mainsprings of their actions, the feeling of thrilled expectancy wholly eludes us. For so far from being the elect of the race, they are a commonplace people raised above the heads of their fellow-men purely by accident of birth; and privileged, not because of any outstanding merits of their own, but entirely owing to the unequal distribution of rights, to promote their sectional power and swell and consolidate their most unhallowed gains. The absence of the slightest evidence of a social conscience offends us, though scarcely so much as their dreary sense of values, the three things to count with them being, nobility of rank, keys of power and tangible wealth.
---
King Edward II (1284-1327)
The brutal murder of King Edward II in 1327 took place at Berkeley Castle.
The life and death of this unfortunate king is the subject of a play by Christopher Marlowe (1564-1593). This formed the text for the excellent film on the subject by Derek Jarman.
The owner of the castle at that time, Lord Thomas Berkeley, was later acquitted of any involvement, but a few pertinent facts are often neglected.
The turning point in Edward's fortune was the battle of Bannockburn in 1314 where the Scottish under Robert de Bruce defeated the much larger English army led by Edward. Many noblemen died or were captured, including Thomas' father Maurice (ransomed), his sister's husband's father, Lord Clifford, (killed) and brother (ransomed). Edward was widely held responsible for this disaster.
Edward II's wife, Isabel (the She Wolf of France), was the lover and accomplice of Roger de Mortimer, Earl of March, who deposed Edward. Thomas Berkeley's 1st wife was Roger's daughter, Margaret.
Thomas's father, Maurice, was imprisoned at Wallingford by Edward II where he died in 1326.
In short Thomas had a motive and every opportunity to kill the King. There is even evidence that he was paid afterwards by the Queen. Edward is buried in the fabulous Gloucester Cathedral - worth visiting just to see the Crecy window - partly 'sponsored' by the Berkeley family; the largest stained glass window in England - a whole 2 foot wider than the great east window in York. The vaulting of the cloisters is also remarkable.
---
James Lord Berkeley (1394-1463)
James Lord Berkeley, was married to Isabel Mowbray (see The Mowbray family). James was in dispute with his uncle's heirs for most of his life. His uncle, Thomas the Magnificent, 10th Lord Berkeley (there is a fabulous brass of him and his wife at Wooton-under-edge in Gloucestershire), left a solitary daughter, Elizabeth, who married the powerful Richard Beauchamp (1382-1439), Earl of Warwick, and guardian of Henry VI. They had three daughters. The eldest, Margaret, married the feared John Talbot (1388-1453), Earl of Shrewsbury, the youngest married Richard Neville, later Earl of Warwick (1428-1471).
During the long dispute over ownership of the Berkeley estate, Isabel was captured by the Countess of Shrewsbury and died in 1452 in prison in Gloucester. James promptly remarried the daughter of the Earl of Shrewsbury.
The family dispute is claimed to be the longest dispute in English legal history. During this period the village of Berkeley was burned down twice - once by each side - for 'supporting the enemy', i.e. paying them rent. The life of ordinary people during this time must have been hard indeed. The dispute was eventually resolved by open battle .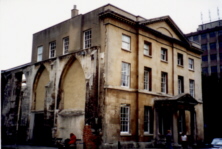 - Greyfriars in Gloucester: where Lady Isabel Berkeley nee Mowbray is buried
James and Isabel's third son James was killed in battle in France (Castillon 1453) along with John Talbot in the closing battle of the Hundred Years War. Father and son are buried at St. Mary's Berkeley, and there is a splendid stone effigy of them both in full armour in a small chapel to the side of the chancel. Isabel was buried at Greyfriars in Gloucester in 1452. The abbey was destroyed in the dissolution, and is now partly ruined, where now stands a fine Georgian building, the County music library, contained within the ribs of the medieval building.
---
William Lord Berkeley, Earl Marshal of England (-1492)
James and Isabel's eldest son, William (the Waster) accumulated many riches and honours. Of his inheritance from his mother's family he gave over 50 manors to King Henry VII.
William was challenged to battle by Viscount Lisle, heir of the Earl of Shrewsbury. In the last battle between private hosts on English soil, the battle of Nibley Green, the Viscount was defeated and killed by William's superior forces, including archers from the forest of Dean. William's forces rode at once to Wooton, to sack the place. The Viscount's widow promptly miscarried, and so the direct Talbot line ended. This finally ended the dispute between the two families.
There is an excellent book on the battle of Nibley Green: "Gloucesters Forgotten Battle" by Peter Fleming & Michael Wood isbn:0752423479, available from Tempus Publishing
William became Lord Berkeley, Earl Marshal of England, Earl of Nottingham, Viscount Dursley, Marquis of Berkeley, and probably lots of other things as well. He outlived his three children, but then disinherited his brother because he had "married beneath him"; an Alderman's daughter named Isabel Meade. He left Berkeley Castle and its estates to the crown for 'entail male', which meant that only with the extinction of the Royal male line on the death of King Edward VI (-1553) did the Castle revert once more to the Berkeley line.
My own person feelings about this man are that given the events surrounding the end of the Plantagenet line, and the start of the Tudors, with Henry VII's victory at Bosworth, and his subsequent ruthless purging of all those who stood in his way, it would not be surprising to find that William found himself with little choice but to make over the bulk of his wealth to the King's line.
---
Justice Sir Robert Berkeley of Spetchley (1584-1656)

- The tomb of Sir Robert Berkeley, at Spetchley, Worcestershire.
Sir Robert Berkeley, descended from Thomas, the fourth and youngest son of Lord James and Isabel, was a justice of the King's Bench in the reign of King Charles I. He was a staunch Royalist, and was one of the judges at the Ship Money trials, where several Members of Parliament, including John Hampden, were fined or imprisoned for refusing to pay the illegal tax. Sir Robert stated that "Rex was Lex", that the King was "a living breathing law". The divine right of Kings was just about to become an unfashionable idea in England - the English Civil War was upon us. The judgement was overturned, and the Judge himself was arrested when presiding in Court. He was reputedly dragged from the Bench by the Usher of the Black Rod, and thrown in the Tower of London.
Whilst on bail awaiting trial, there was a chronic shortage of Judges, so he was allowed to practice until his own trial. He was fined an astonishing £10,000 and deprived of ever holding public office.
He went into retirement on his estate at Spetchley near Worcester. In 1651 his house was requisitioned by Cromwell prior to the battle of Worcester. His town house in Worcester, now known as Charles' House, was used by King Charles II to make his escape prior to his famous night spent sleeping in the branches of an oak tree. Sir Robert's house at Spetchley was subsequently burned down by a retreating band of Scottish Presbyterians. Sir Robert ended his days living in the stable block - all that remained of his manor house - and died there in 1656. His descendants still live at Spetchley Park, whose gardens are open to the public.
See an account of his ancestry and life in Nash.
There is an unparalleled account of the siege of Worcester during the Civil War in The Diary of Henry Townshend of Elmley Lovett. This includes a description of the Berkeley town house being hit by canon fire.
---
Sir John Berkeley, Baron Berkeley, Victor of Stratton (1606-1678)
Sir John was a member of Bruton branch of the family, from Somerset. Born at Hanworth, Middlesex, the ancestral home of his mother, Elizabeth Killigrew, in 1605/6. He stood as MP but spent some time imprisoned (1640) in the Tower of London for his support of the King during the run-up to the English Civil War. During the Civil War he fought in the successful military campaign in the South West of England, notably the battle of Stratton in 1643, after which he was made commander-in-chief of the Royalist forces in Devonshire. He besieged and then became Governor of the city of Exeter, before eventually surrendering it to Sir Thomas Fairfax. He escorted Queen Henrietta Maria to France when fortunes changed. He was later involved in the bungled attempt to free King Charles I from Hampton Court, failing to prevent the King's execution in 1649.
He fought on the continent, firstly under Turenne in Flanders against the Spanish, and then, when the Duke of York offered his sword to the Spanish, in the Netherlands, fighting for the Spanish. At the Restoration of the Monarchy in 1660, he returned to high office in the British Navy (Samuel Pepys leaves an interesting account in his diaries), a brief spell as Lord Lieutenant of Ireland, and an ambassador to the treaty of Nimugen, he died in 1678. There is a portrait of him at Berkeley Castle.
His nephew Charles, the Earl of Falmouth, was also a close friend of King Charles II. Sir John's brother, Sir William Berkeley (1605-1677), was governor of Virginia, and is buried at Twickenham.
In his later years Sir John amassed a great fortune, building a palace in the west end of London, in the area now known as Berkeley Square (origin of the famous song about Nightingales). He is buried at St. Mary's church in Twickenham, Middlesex. His fine memorial stone describes his wife, Christina Riccard, as follows: "A Young Lady of large Dowry & yet larger graces and virtues Who also enriched him with a most hopeful progeny". Who said romance is dead?
Marrying the only daughter of the treasurer of the East India company does not appear to have done him any harm. His distant cousin, George, Earl of Berkeley, married the daughter of the Governor of the East India company at around the same time.
Sir John was one of the commissioners of land in New England, appointed by his friend James II, when he was still Duke of York. I don't know if any of those concerned ever went there though.
---
Charles Berkeley (1630 - 1665), Earl of Falmouth
Nephew of Sir John Berkeley, a close friend of King Charles II, was captain of the guard to James, Duke of York; the future King James II. In 1662 he was appointed by Charles II Keeper of the Privy Purse.
When James had secretly married Anne Hyde (daughter of Clarendon, of Hyde Park fame), Charles' advice was sought. He mistakenly thought that James wished to get out of the marriage. According to the Comte de Grammont, Charles produced four "men of honour". Three described acts of familiarity with Anne, the fourth claiming to "have received from her the last favours". According to Clarendon, Charles had told the Duke "that he was bound in conscience to preserve him from taking a woman so wholly unworthy of him, that he himself had lain with her, and that for his sake he would be content to marry her, though he well knew the familiarity the Duke had had with her". When this approach was rejected by the Duke, and dismissed by the King, Charles loudly confessed the baselessness of his accusations, declared his confidence in the Duchess' virtue, and sought forgiveness from her.
He died in action against the Dutch at the battle of Southwold bay. He was standing next to James Duke of York, when he was hit full in the head by a cannon ball. Two others were killed by the same shot, and James himself was spattered by their blood. According to Clarendon "he was lamented by the King with floods of tears, to the amazement of all who had seen how unshaken he (Charles) had been on other assaults of fortune". His remains were buried with full honours at Westminster Abbey, though his gravestone is now partly covered by another, and all that shows is the name "E. Falmouth".
There is a poem "Directions to a painter concerning the Dutch War" by Sir John Denham, written in 1667, that describes Charles and his death in none too flattering terms:
Falmouth was there, I know not what to act;
Some say 'twas to grow Duke too by contract;
An untaught Bullet in its wanton Scope,
Dashed him all to pieces, and his Hope.
Such was his rise, such was his fall, unprais'd,
A Chance-shot sooner took him than Chance rais'd;
His shatter'd Head the fearless Duke disdains,
And gave the last  first proof that he had brains. 
Charles was married to the beautiful Mary Bagot, Lady to the bedchamber of the Queen. There is a portrait of her by Lely at Hampton Court Palace. There is a second portrait of her, now in the Althorp collection, where she is portrayed holding the cannon ball which killed him; a macabre momento if ever there was one. There are no known paintings of Charles himself, nor even a description of his appearance.
There is a book about his life, "The King's Friend, the life of Charles Berkeley, Viscount FitzHardinge, Earl of Falmouth", written by Cyril Hughes Hartmann, pub. Heinemann, 1951. Well worth reading. He clearly got a bad press from several important sources of the time, notably Clarendon and Pepys, and that has clouded his image. Pepys says "Sir Charles Berkeley's greatness is only in his being pimp to the King, and to my Lady Castlemaine". Bishop Burnet says "Charles Berkeley .. who without any visible merit, unless it was the managing of the King's amours, was the most absolute of all the King's favourites".
He appears at first sight to have had no principles, yet it must be said that he was driven by unswerving, if occasionally misdirected loyalty to the Crown.
---
Jonathan Swift (1667-1745)
The brilliant satirist Jonathan Swift is undoubtedly best known for writing the classic "Gulliver's Travels". Like many of the greatest writers in the English language, he was of course Irish. He was not a Berkeley, but he was closely associated with them. He spent a short time as chaplain to George, Earl of Berkeley, at Berkeley Castle, though spent most of his time in England in the employ of Sir William Temple.
The Berkeleys were the last family in England to employ a jester. One evening the revelry got out of hand and the poor jester was thrown from the minstrel gallery and died. He is buried at St. Mary's in Berkeley, and his epitaph was written by Swift.
Swift once introduced George the Earl of Berkeley to Bishop Berkeley, saying to the Earl, "it is a greater honour for you to meet him, than for him to meet you". He also once left the philosopher Bishop standing at his door saying that if no material world existed, then he should have little trouble getting through the door.
There is plenty more you could say about this great man, but this is not the place for it.
---
Bishop George Berkeley (1685-1753)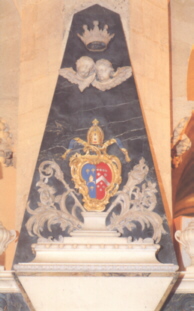 - Bishop Berkeley's memorial, Christ Church Cathedral, Oxford.
Possibly the greatest of all the Berkeley family, George Berkeley, Bishop of Cloyne was born in Ireland. He is probably most famous now for the University posthumously named after him in California (there is also a Berkeley Library at Trinity College, Dublin). A great philosopher, his works are no longer so highly regarded. He also wrote on the healing effects of tar water.
There are a couple of amusing stories attached to him relating to his friend the brilliant satirist, and author, Jonathan Swift.
He persuaded Parliament to promise him the money to set up a University in the Burmudas. They failed to pay, so on his death he left his goods and library to the Bodlian library in Oxford on the condition that they be given to the first University set up on the west coast of America. The University at Berkeley California got there first, and was thus named after him. I feel that he would have been proud to give his name to one of the greatest educational establishments on Earth.
There is an International Berkeley Society "which was founded to enable its members to share their interest in George Berkeley, Bishop of Cloyne".
Note: All the other Berkeleys in this text are related, but I cannot find how the Bishop fits in with the rest of the family. If you have any clues, I would welcome hearing from you. Although George was born in Ireland, his father is described as an 'English Gentleman'.
---
Dr. Edward Jenner (1749-1823)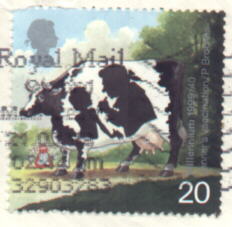 - Stamp commemorating the discovery of vaccination
It is well recorded how Dr. Edward Jenner discovered the principle of vaccination by noticing that being infected with cowpox seemed to prevent the often fatal disease smallpox. Jenner was the family physician of the Berkeley's at Berkeley Castle, and their own son was among the first people in Britain to be vaccinated. To Jenner we owe one of the most important breakthroughs in medical history. There is now a Jenner museum at Berkeley.
A British postage stamp celebrating vaccination was recently issued. It shows a mad cow patterned with a silhouette of Jenner jabbing someone in the arm while a milk maid looks on. Judge for yourself.
It is also acknowledged that Lady Mary Wortley Montague (1689-1762) learnt of the principle of vaccination much earlier; it had been practiced in Turkey for many years. She had her son vaccinated while living there with her husband, the Ambassador to Turkey. But Jenner was certainly important in popularising the technique, which has saved countless lives and all but eradicated smallpox.
---
Lady Elizabeth Craven (1750 - 1828)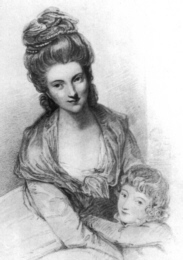 - Lady Craven
Lady Craven was the youngest daughter of the fourth Earl of Berkeley. Brought up at the castle, she was a talented poet and playwright, and later led a scandalous and eventful life. One source says of her:
"Lady Craven, as was befitting a poetess, had a passion for romance, but unfortunately she did not confine her feelings to verses. She was, indeed, singularly indiscreet in her conduct, and her reputation suffered greatly, nor, it is to be feared, without cause."
A few years after her marriage at the age of seventeen to Lord Craven, she had an affair with the Duc de Guines, the French Ambassador at the Court of St. James. Discovered but pardoned by her husband, she was still received in society, admired by many, including Horace Walpole who wrote the following of her:
Genius, howe'er sublime pathetic, free, 
Trusts to the press for immortality 
To types would Craven her sweet lays prefer, 
The press would owe immortal fame to her, 
While she, too careless and so fair a face, 
Would breath eternal youth on every grace, 
Ages unborn computing with surprise, 
From her own wit the brightness of her eyes. 
Her marriage eventually broke up, and she was long separated from her husband. A week after his death, she married again, to the Margrave of Anspach. They had a house on the banks of the Thames, where she had a theatre built, to enable her to stage performances of her own plays. The stories of her lavish parties include one set on water, with the dance floor arranged on a barge, an orchestra following in another.
She travelled widely, outlived (and near bankrupted) her several husbands, and ended her days with the delightful title of Princess Elizabeth of Bohemia.
Her life story is told in the book "The beautiful Lady Craven" by A M Broadway and L Melville, pub. John Lane 1914. An account of her life which may be autobiographical appeared with Tobias Smollett's "Peregrine Pickle", as "The Memoirs of a Lady of Quality".
---
Mary Cole (1767-1844)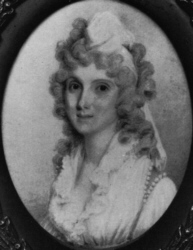 - Mary Cole
Mary Cole, a butcher's daughter from Bristol was seduced by Frederick Augustus, 5th Earl of Berkeley. She lived with him at Berkeley Castle, and bore him several illegitimate children. The problem with this was that under the law, only legitimate children could inherit the title. He did eventually marry Mary in 1796, but the two of them forged an entry in the marriage register of St. Mary's church at Berkeley, inventing a previous marriage prior to the birth of their eldest son.
The Earl felt happy with this, but on his death, the legality of the marriage was disputed, and the House of Lords ruled that the elder children were illegitimate, and could not inherit the title. The eldest legitimate son, Thomas Moreton Fitzhardinge became Earl of Berkeley.
Mary Cole was poorly treated both by her husband, and later by her children. Her only real crime was that she was from a poor family, and therefore deemed a total unsuitable match for an Earl in the class ridden society to which she was born.
There are several books about her, including "Mary Cole, Countess of Berkeley", by Hope Costley-White, published by George Harrap & co. 1961.
---
Rt. Hon. George Charles Grantley Fitzhardinge Berkeley MP (1800-1881)
The Rt. Hon. George Charles Grantley Fitzhardinge Berkeley, son of Mary Cole wrote a book "Berkeley Castle" an historical romance based on life at Berkeley during the war of the roses. Published in 1836 it was pilloried in Fraser's Magazine. The author was so incensed at the criticism that he hired a boxer to stand guard at the door while he badly assaulted the editor of the magazine, James Fraser, with a hunting whip. In court he was fined £100 for the offence, and was awarded 40/-. (£2) in damages for the libel. He pleaded for clemency on the grounds that he was a Justice of the Peace, and a Member of Parliament. He subsequently fought a duel with the author of the article, Dr. Maginn, who he badly injured.
He devoted most of his life to hunting. He kept a tame cormorant called Jack, and several dogs (a terrier 'Smike', a bloodhound 'Druid', a mastiff 'Grumbo', and retriever 'Smoker'). His books include "The English Sportsman on the Western Prairies'. His interpretation of 'sportsman" presumably included hitting defenceless people with hunting whips, and apparently in his younger days he and his brothers used to pick fights with the local children near their estate at Cranford, and horse whip them too. He represents the degenerate English aristocrat at its very worst.
Note :- I first wrote these notes in 1996. Since then I've become aware of his heavy involvement in the slave trade. I did not see any mention of this when I was first researching him. Please see the scathing description of him in the Legacies of British Slave-ownership study by UCL. They summarise with "Altogether an extremely unpleasant man."
Legacies of British Slave-ownership UCL
---
Rev. Miles Joseph Berkeley (1803-1889) MA FRS FLS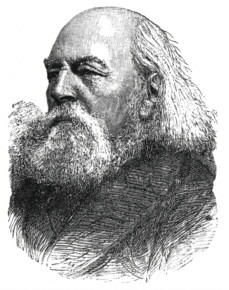 The Rev. Miles Joseph Berkeley was one of the first people to make a scientific study of fungi. His 'Monograph of British Fungi' (1836) formed the third volume of Hooker's 'British Flora', which became the standard work on the subject for the next 35 years. He was engaged in classifying the specimens brought back from the voyage of the Beagle - the voyage on which Darwin first realised the principles of Evolution.
He was vicar of Sibbertoft, Northamptonshire, where he is buried alongside his wife, Cecilia Emma Campbell of Blackheath, and several of their fifteen children. He built a stained glass window to his wife, but sadly this no longer exists. Apparently the vicarage at Sibbertoft now suffers badly from dry rot - perhaps it is some exotic strain collected by Miles Joseph? He presented his collection of 10,000 species to the botanical gardens at Kew - containing 4,866 specimens named by himself.
He claimed to be descended from a nephew of Justice Sir Robert Berkeley, though I have yet to prove this either way. For a fuller account of his life, see his obituary.
Note: Miles Joseph was a near relative of mine. I am interested in getting in touch with anyone with information about this branch of the Berkeleys in Northamptonshire.