rotwang.co.uk
The History of Berkeley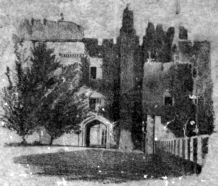 A Sketch of the History of Berkeley, Its Castle, Church, and the Berkeley Family
by James Herbert Cooke, Land Steward to the Right Hon. Lord Fitzhardinge.
Gloucester: John Bellows. Bristol and Clifton: R. W. Bingham. Berkeley: G. Sinderby.
---
Contents.
---
Preface.
A considerable portion of the following pages formed the substance of a paper which was read by the author to the members of the Cotswold Naturalists Field-club, at their meeting at Berkeley in July, 1871, and was printed in their "Transactions" for that year. The whole has now been re-written, and the chapters on the Berkeley Family and on Berkeley Castle have been added.
Any profits arising from the sale of this little book will be given towards the erection of a church at Purton in the parish of Berkeley.