rotwang.co.uk
Obituary of Miles Joseph Berkeley
scanned from "Northamptonshire Notes & Queries" Vol IV.
---
567. Northamptonshire Obituaries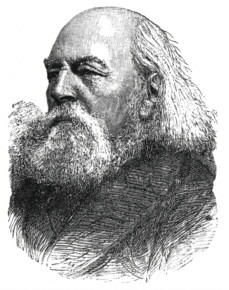 The Rev. Miles Joseph Berkeley, M.A., F.R.S., F.L.S.
The subject of our memoir belonged to the Spetchley branch of the Berkeley family - his great-great-grandfather, Maurice Berkeley (baptized at Spetchley, 1 Sept. 1636), who settled at Apethorpe, Northamptonshire, in 1661, and who is buried in Apethorpe church, being a nephew of Sir Robert Berkeley, of Spetchley Court, Co. Worcester, Chief Justice of the King's Bench in the time of Charles the First. Miles Joseph was the second son of Charles Berkeley, esq., of Biggin Hall, near Oundle, and Charlotte his wife, daughter of James Munn, esq., of Blackheath. He was born at Biggin Hall on the 1st April, 1803. He attended Oundle Grammar School as a day scholar for a short time, and then went to Rugby. At Rugby he displayed considerable ability, and at the age of eighteen 1821 was entered at Christ's College, Cambridge. He graduated as fifth senior optime in 1825 and it was thought by his friends that he might have taken higher honours had he not devoted so much of his time to scientific researches. He became attached to natural history from an early period, and his scientific tendencies, both zoological and botanical, after being fostered at Rugby, were kept alive and vigorous when at Cambridge by an intimate acquaintance with the late Prof. Henslow. During a summer residence at Loch Lomond in 1823, and at Oban in 1824, he made considerable collections of specimens of the lower forms of animals and plants. At this time he made the acquaintance of Captain Carmichael, a cryptogamic botanist, whose association with the young student must have been of considerable advantage.
Mr. Berkeley was admitted deacon and curate of Stibbington, near Wansford, on December 1st, 1826, and in the same month he was appointed curate of Thornhaugh. He continued, however, to reside at Stibbington, until he was appointed to the important curacy of S. John's, Margate, on May 14th, 1830. When residing at Stibbington he was ordained priest on December 23rd, 1827 and here it was, in this year, that he made a considerable number of drawings of fungi, and ascertained the real structure of the hymenium in agarics. During his stay of nearly three years at Margate Mr. Berkeley made some important discoveries with regard to vine disease in conjunction with Dr. Hoffmann, and Mr. Tucker, a gardener. The disease was named, after Mr. Tucker, "Oldium Tuckeri." He made very valuable experiments on yeast and also on the use of sulphur for the cure of vine diseases; and although the French government gave pecuniary rewards to other scientists for the discovery, it was not until a later period that the French government and the late King of Portugal officially recognized his services. During the time he was at Margate his earliest contributions to science - devoted to Mollusca - were published in the Zoological Magazine, and in the Magazine of Natural History. He was an expert draughtsman, and some of his unpublished drawings of British land shells were placed by him at the disposal of Mr. Lovell Reeve, and are acknowledged by that author in his preface to Land and Fresh-Water Mollusks.
On January 28th, 1833, Mr. Berkeley married Cecilia Emma, daughter of Mr. John Campbell, of Blackheath, and grand-daughter of Archibald Campbell, of Kenmore, N.B. This lady was an accomplished linguist, and gave him great assistance in translating French and Italian works. She also made a number of the drawings of fungi in his unpublished book of illustrated fungi, subsequently given by him to Kew. He was presented to the two small perpetual curacies of Apethorpe and Wood Newton, in March of the same year. In December, 1834, he was appointed chaplain to the Earl of Westmoreland. He then resided at King's Cliffe, near Wansford. In 1833 appeared his first important scientific work, Gleanings of British A1gae, which deals mainly with mintute microscopic types. This was followed in 1836 by his Monograph of the British Fungi, which forms the third volume of Hooker's British Flora. This work made Berkeley's reputation, and continued the only hand-book of the British Species for thirty-five years, and was of course indispensable to every worker on the same subject. It was founded on the Systema Mycologicum of Fries, but his labours - considering the ignorance of British Mycology at the time - in gathering the materials, and putting their result into scientific form, must have been very great, and showed tbat he possessed a special faculty of observation and a keen judgement which in this department of botany, have never been out-rivalled. From this date he was the referee to whom all disputed matters were referred ; foreign as well as British specimens being sent to him. His descriptions of them were published in the various scientific journals from time to time. He made many experiments and investigations on the diseases of plants ; his researches on the pototo disease and the vine being especially valuable in an economic sense.
In 1837 he commenced Notices of British Fungi in the Magazine of Zoology and Botany, the forerunner of the Annals and Magazine of Natural History, and these appeared at intervals until 1848, when Mr. Broome became his coadjutor, and the fungi collected by Mr. Darwin during the voyage of "The Beagle" the novelties in the Hookerian and British Museum Herbaria, Cumming's Phillipine Fungi, and many others, were described.
Between 1844 and 1856, appeared The Decades of Fungi. During these years he must have worked with intense activity, for in addition to his scientific labours and classical duties the burden of a large family led him to take pupils. It was not till some years later that he received a pension from the Government. In June of 1854 was made rural dean of part of the Northampton district.
In 1857 he published his Introduction to Cryptogamic Botany, which perhaps was his most useful work, as it led to the wide diffusion of knowledge of that group, and moreover shewed remarkable originality. Our literature of the subject was materially affected by it.
In 1860 appeared The Outlines of British Fungology, with numerous figures of fungi. From an early period he assisted Dr. Lindley in the preparation of articles for the Journal of the Royal Horticultural Society, and on his death became the botanical adviser of the Society, and secretary of its scietitific committee. He acted as general referee for the Gardener's Chronicle from its formation in 1841, till within the last few years, and published in it many valuable papers on vegetable pathology. In 1863, he published his Handbook of British Mosses which contained descriptions and plates of all the species then recorded for Great Britain. In that year he was awarded the gold medal (Biological) of the Royal Society, a prize he highly valued. He contributed a series of articles on the diseases of plants to The Cyclopedia of Agriculture. The proof sheets of that magnum opus, Bentham's and Hooker's Genera Plantarum passed under his eyes. He was responsible for the record of many of the plants given for Northamptonshire, Hunts, and Rutland, in Watson's Topographical Botany.
In May, 1868, he was presented to the more valuable living at Sibbertoft, and in the following year he was appointed by the Earl of Clarendon as British Conimissioner to the Hamburg Exhibition of 1869. As Mr. Berkeley found that in the botanical and horticultural departments the Exhibition did not equal English Flower Shows, it is not surprising that his report is a very brief, and it must be added, not a very appreciative one. In 1871, Mr. Berkeley was made rural dean of Rothwell deanery. In 1879 he was elected Fellow of the Royal Society, and shortly after presented his extensive collection of fungi, amounting to upwards of 10,000 species, to Kew. It has been estimated by Mr. G.E. Massee that it contains 4,866 type specimens named by himself, and that Mr. Berkeley must have named in all nearly 6,000 species. A few of his most valuable scientific books shortly after went to the same place. A capital Portrait of him was given by his friend Mr. W. G. Smith in The Gardener's Chronicle, and a less pleasing oil painting by Peel was subscribed for and presented to the Linnaen Society in 1878.
The writer first formed his acquaintance at a meeting of the Northamptonshire Natural History Society, In the Council Chamber about 1876. At that time a1though a little deaf he had all the charm of conversation and eager liking for the things of nature as any student. He related with evident zest his climb up St. Vincent's Rocks after Veronica Hybrida, and Geranium Rotundifolium. His kindness may be best explained when one states that the botanical veteran offered to supply a copy of his MS. notes on the phanerogams of the county to the neophite who met him, a promise which he amply fulfilled In a correspondence which lasted till his eighty-third birthday, when he sent a brief note on some plant occurrence. In 1881 he was delighted to meet with Gagea1utea in the Sibbertoft combes. Altogether he supplied the writer with notices of upwards of a hundred flowering plants of the county, several of which were first recorded by him. In 1884, Mr. Berkeley's retirement from active labours in the sphere he had worked so long was announced. In the Annals and Magazine of Natural history of that year, Mr. Berkeley in a concluding note to his contribution on British Fungi, said that he was glad to be able to make a certain correction, "as this," he added, "is in all probability the last of a long series of contributions."
In appearance he was a tall well-built man of singularly noble presence, and a head of magnificent intellectual grandeur which recalled that of Fries. His long white hair and patriarchal aspect were conspicuous at Visitation services at All Saints', Northampton. He was rural dean for many years both when at King's Cliffe and Sibbertoft. He was Honorary Fellow of the Horticultural Society of London, of S. Augustine's College, Canterbury, and of Christ College, Cambridge, and was a member of several foreign scientific societies. He was for some years examiner in botany at Cambridge, London University, and Apothecaries' Hall. In the scientific world his name will ever be honoured. Among contemporary workers he held a place not second even to Greville, Wilson the Biologist, or Harvey the Psychologist. He was a pioneer in research into the life-history of many organisms, and practised the culture of these plants, so as to obtain a true idea of their development and nature. His philosophic method of investigation has by later workers led to a revolution in many of the old opinions, and established most important scientific facts.
By his death which took place on July 30th, 1889, the Northamptonshire Natural History Society loses its Botanical President - who by his inspiriting address teeming with nature's lore in the early days of its existence, did so much to awaken scientific zeal among its members - and a genial friend whose interest in its work never abated.
- G. Claridge Druce, M.A., F.L.S., Oxford.